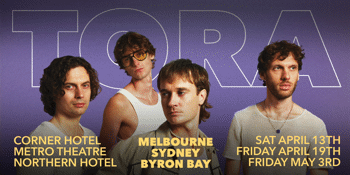 TORA - BYRON BAY
With Special Guests
The Northern (Byron Bay, NSW)
Friday, 3 May 2024 7:00 pm
In April 2024 Tora returns home for their first Aus shows in 4 years since relocating to EU in 2020. Having since released their third album 'A Force Majeure' and sold out headline tours in EU & USA, Tora brings Fractures & AKA Lui as support for a special evening of live/electronic music.
TORA's sound can be described as a harmonious blend of indie electronica, dream-pop, and ambient music. Their music paints a vivid auditory canvas, inviting listeners on a journey through atmospheric landscapes of sound filled with peaks and valleys.
TORA is best know for songs like "Too Much", "Another Case", or more recently "When Will I Learn" & "Inundated" which quickly became fan favourites, earning the band critical acclaim and a dedicated following.
One of TORA's most enchanting attributes is their live performances. The band's mesmerising shows take their already ethereal music to another level with live drums, analogue synths, soaring vocals and a strong stage presence that demonstrates their 10 years of experience on the road. From intimate venues to music festivals, the bands captivating aura creates an almost spiritual experience for their audience.
TORA has, over the years, helped shape the indie electronica genre. Their willingness to experiment and incorporate diverse musical elements has made them pioneers in the industry. Their artistic journey continues to evolve and inspire countless artists worldwide.
Bringing a new set constructed of songs from all 3 of their studio albums, fans and patrons are in for a treat